Towards the Sun: An Anthology for Chloe
Towards the Sun: An Anthology for Chloe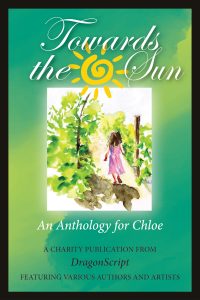 In February 2020, the daughter of our New Beginnings cover artist, Chloe, was diagnosed with a rare form of liver cancer that affects less than 5% of people, mainly teenagers and young adults. DragonScript decided to create an anthology centered around the theme of hopepunk, all that is uplifting and powerful.
A GoFundMe was also established to help defray her medical costs and travel expenses since she must see an out-of-state specialist for treatment.
All proceeds from the sale of Towards the Sun will be donated to her GoFundMe. The book is available as a digital download directly from DragonScript, as well as both paperback and ebook from Amazon, Barnes and Noble, and other fine digital retailers. This anthology features over 100 pages of upbeat, uplifting, and hope-themed poetry, short stories, and artwork.