New Adventures
New Adventures
Now available on Amazon in hardcover! (eBook coming soon.)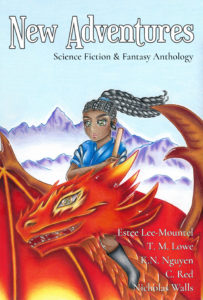 New Adventures heralds the return of four authors from New Beginnings and welcomes a new member into the fold. These five have created a second science fiction/fantasy collaborative short story anthology. Here, we'll see some familiar faces amongst the pages and meet new heroes as well.
Description:
A cantankerous dragon and his human companion.
An inquisitive android with a mission all his own.
A tale of intrigue set in Ancient Egypt of an alternate universe.
Penned by our up-and-coming authors, this collection of short stories will take you from desolate, post-apocalyptic vistas to breathtaking alien worlds– and beyond. Delve into the underbelly of a cyberpunk Hollywood. Revisit a classic legend, overhauled with humor in a modern setting. Discover a mystical dimension, just beyond our own.
So, pack your bags and strap in. We're embarking on a whole set of New Adventures.
ISBN: 9781949322095