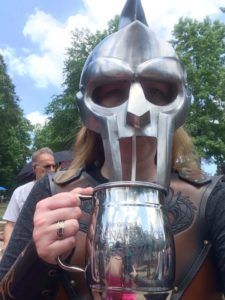 T.M. Lowe was an aspiring writer from Jacksonville, Florida, when her mother took her own life in 2012. Mrs. Lowe stopped following her lifelong passion while trying to figure out how to cope with the sudden, unexpected loss. Four years later, she determined to take up writing again in her mother's memory.
Her first published works were "What Makes a Man", a science fiction short story and "The Lady and the Dragon", a fantasy short story. Both appeared in DragonScript's first anthology, New Beginnings.
In DragonScript's second anthology, New Adventures, she contributed "Dead Land", a science fiction short story and "The Lady and the Hunter", a fantasy short story sequel to "The Lady and the Dragon". She is currently working on more short stories as well as a full-length novel.
Mrs. Lowe is 35 years old and currently resides in St. Augustine, Florida, with her husband and household of rescued animals. When not writing, her hobbies include playing video games, watching her beloved Florida Gators play football in the fall, reading, attending medieval and renaissance faires in full knightly costume, fishing, and shooting pool while drinking whiskey in smoky dive bars.
To catch updates on her current writing projects, follow her on Twitter or visit her Facebook.