God's Blood is available in both paperback and ebook formats in the DragonScript store!
Also available on Amazon and all major book retailers in hardcover, paperback, and ebook formats.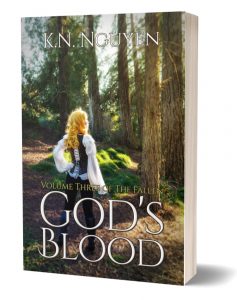 God's Blood is the third book in K.N. Nguyen's Fallen series.
Description:
As the forces of Pharn march towards Xan, the other nations of Corinth are crumbling. Oldar, the young king of Alocar, has splintered his alliances, causing his two strongest realms to fray. In the east, the unruly warlord clans are on the verge of war. Ancient magic is stirring as the gods begin to choose sides.
In the deserted land of Enlil, the gods are awakening as the Ancients and Man move closer to battle. All of Corinth trembles, the effects of the impending chaos reaching all the way to the land of the dead. Even the heavens herald the Darkness' approach as the stars turn away.
Back in Alocar, darkness spreads as a familiar foe plots for the throne. An ancient evil is loose upon the land and time is running out.
| | |
| --- | --- |
| Format | ISBN |
| Hardcover | 9781949322040 |
| Paperback | 9781949322088 |
| Ebook | 9781949322057 |