New Beginnings
New Beginnings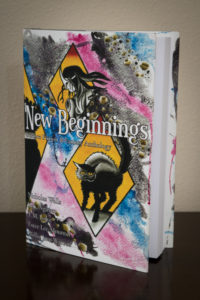 New Beginnings is a collection of science fiction and fantasy short stories written by five up-and-coming authors throughout the United States. This compilation showcases their first published works.
Description:
Enter the lands where dragons don't want to eat the princess, the dead don't rest, and gods struggle to be heard. Prepare yourself as you embark on an adrenaline-fueled ride through uncharted territory as you navigate your way through the literary jungle. Whether it's dodging bullets, a butcher, or a barbaric king, the twists and turns will leave you begging for more.
New Beginnings is a science fiction/fantasy collaborative work by five breakthrough authors. Join them as they guide you through the worlds and into the wild of their imaginations.
ISBN: 9781949322101
Free eBook download: EPUB (Most eReaders) | MOBI (Kindle) | AZW (Kindle)